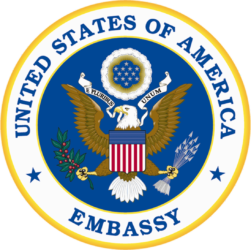 Embassy of the United States of America
Maharajgunj, Kathmandu, Nepal
Open Monday through Friday 9:30 A.M. to 4:30 P.M. Closed Saturday, Sunday and holidays.
Visitors to the American Library may take advantage of the books, reference materials, magazines, videos, and information services available in the library. Visitors may also use the library's computers to access extensive collection of online databases or other Internet resources.
Please note that the library is located on the U.S. Embassy compound and all visitors must pass through the security check. Please bring a photo ID with you. Cell phones and cameras are not permitted inside.
6 month student membership: Rs. 200 (Rs. 100 to renew)
6 month membership for non-students: Rs. 300 (Rs. 150 to renew)
Residents of Kathmandu Valley and students of SLC, diploma level or above in campuses and schools are eligible for library membership upon submission of a completed application form, satisfactory identification and a passport size photo.  Students should present their College/School I.D. cards when submitting their membership application form.
Membership Rules:
The following are the obligations and responsibilities of members.
Members are responsible for the prompt return in good condition of all materials borrowed.
Membership cards are not transferable. Any misuse of a borrower's card will be the responsibility of the borrower in whose name the cards was issued.
Members who are no longer able or who no longer wish to continue membership in the library is requested to turn in their membership card for cancellation.
Two books can be borrowed for three weeks at a time. Renewal is permitted if a book has not been reserved by another member. Overdue materials will not be renewed.
No additional books will be loaned to members with overdue books until such materials have been returned. A reminder notice] will be sent when a book is overdue. A fine of Rs. 2/- will be charged per day, per book after the due date.  Repeated late return of books may result in loss of borrowing privileges.
If a book is not on the shelf, a member may fill out a reserve slip at the library circulation desk and will be notified when it is available.
Membership will be withdrawn and a fine will be charged from any member found defacing a book or removing a book from the library without having it properly issued by the librarian.
Members will be charged for the cost of any lost or damaged books.
Library Membership Form [PDF 22KB]