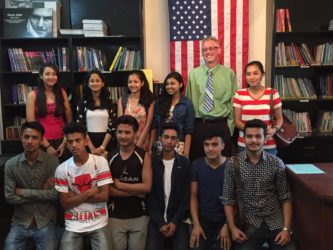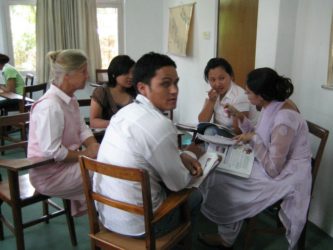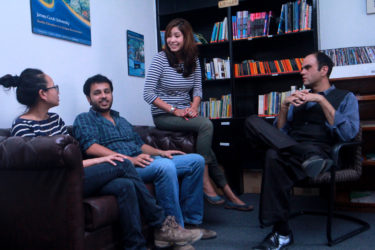 Conversation: The power of you!
Have you ever noticed how people who speak with confidence are recognized and gain the best opportunities in life and in business?
Invest in yourself and your future through this course, focused on building confidence and exploring personality and critical thinking skills. This practical, action-packed training is designed to be supportive, with positive feedback that encourages students to open up and interact with fellow students and teachers in an environment that is safe and friendly. This course consists of 33 hours of instruction over a 5 week period.
You will learn how to:
Speak off-the-cuff,
Build rapport and connection with others,
Improve listening skills,
Build the self-assurance you need to voice your opinions positively and confidently,
Use techniques and practical experience to organize your thoughts, stay on track, and get to the point,
Speak positively about yourself and your challenges,
Take control and respond confidently to questions,
Establish credibility.
The course covers the following topics:
Conversation Skills
Our lives are shaped by the conversations we have: every one of them can open up new possibilities and expand our horizons. In this portion of the course you will find out how to start a conversation and how to make it an enjoyable and informative practice. The objectives will focus on increasing interpersonal engagement, broadening curiosity and deepening relationships.
Critical Thinking
Critical thinking is an intellectual model for reasoning through issues to reach well founded conclusions about them. This section is designed to help learners define and identify critical thinking and reasoning skills and develop those skills.
Personality Development
We need self-confidence, motivation, determination, dedication and perseverance to compete in today's global business environment. This portion of the course will cover various topics and situations related to one's personality development by encouraging each individual's potential and enhancing their natural strengths while developing strategies to overcome weaknesses.
Program Outcomes:
Initiate and sustain a conversation
Organize one's thoughts and stay on topic
Craft persuasive, effective arguments
Confidently state opinions and answer questions
Present information on topics of interest to a general audience
Deliver effective technical, academic and professional presentations
Use body language and vocal strategies to convey the right message
Employ critical thinking, logical analysis and problem solving in a variety of situations