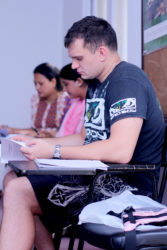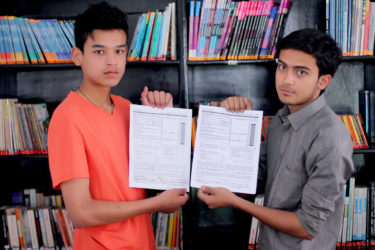 Pursue your dreams of earning a university degree abroad with the help of ALC. Our globally recognized English learning programs help you achieve the English language proficiency you need to gain admission to colleges and universities throughout the USA, the UK, Canada and Australia.
Choosing the Right University
At ALC, we have years of successful experience in guiding students to the university of their choice. We have helped thousands of students apply for F1 and J1 visas. Our counselors are committed to advising students to ensure their success with interview preparation, document submission and application procedures.
The following points will help you select a university that fits your needs:
Find a school that offers a major in the field you plan to study.
Decide where you want to study, including the type of weather, area and community.
Set a budget for tuition and find schools that work with your budget.
Find a school with admissions standards that meet your test scores, language proficiency and grade point average.
Why Study in the USA?
There are currently more than 670,000 international students studying in the USA, of which nearly 11,500 are from Nepal. These students have chosen to study in the USA because of the following benefits:
Quality: The United States has some of the world's top colleges and universities. Institutions of higher education in the US are world-renowned for cutting-edge research and leading faculty, programs and resources.
Choice: The choice of institutions, academic and social environments, degrees and fields of study offered in the US offer one of the world's most diverse educational opportunities. There are currently more than 4,000 institutions of higher education in the USA to choose from!
Value: Considering a degree in the US is an investment in your future. There are a wide range of tuition fees charged, as well as some excellent scholarships and grants available to qualified applicants.
Is US Higher Education Right for You?
Studying in the United States is a big decision that requires consideration of the following points:
Adequate funding: Studying in the US is expensive. Colleges and universities in the US cost between $12,000 and $50,000 per year. A Bachelor's program requires 4 years of study and a Master's program requires 2. If you do not have enough funding to cover your tuition expenses, you can apply for scholarships.
Strong academic background: College admissions and scholarship selection are both extremely competitive. Having a strong academic record will increase your chances of meeting your educational goals.
English language skills: In order to succeed as a student in the US, you must have a strong command of spoken and written English, as well as strong listening and reading skills.
Standardized exams: Most institutions require TOEFL for non-native English speakers. In addition, some undergraduate programs require the SAT or ACT and some graduate programs require the GRE or GMAT.
Student visa: You will require a student visa to travel to and study in the US. Attend USEF's "Student Visa Information Session" to learn more about the visa application and interview process.
The US Educational System
There are many differences, as well as some similarities, between the higher educational system in the United States. For instance, while it is possible to enroll in either a 3-year or a 4-year Bachelor's program in Nepal, the US only offers 4-year Bachelor's programs. Therefore, it is crucial that you understand where you fit, in order to better understand your options.
High School
In Nepal, we have the SLC board exam, which is taken at the completion of grade 10. If successfully passed, the student may continue on to a Plus Two, A-Level, PCL or Intermediate Level program. By contrast, in the US high school is grades 9 through 12. There are no board exams and each school is relatively autonomous in setting its academic standards. In general, a Nepali student who have completed a Plus Two, A-Level or similar program can be compared to a high school graduate from the US system.
Undergraduate Studies
There are 3- and 4-year Bachelor's programs available in Nepal, as well as some graduates of older 2-year Bachelor programs; however, undergraduate programs in the US are no less than 4 years in length. Students who have completed high school are eligible to apply to undergraduate study programs in the US.
In addition, there is a 2-year degree program in the US known as an Associate's degree. These programs are offered at some colleges and universities, but are often taken at what are known as "community colleges", smaller local institutions that often offer lower tuition rates. Students at a community college can transfer their credits to a 4-year college to continue studies for a Bachelor's degree.
Given that, students seeking to study in the US have two options: They can either directly enroll in a 4-year undergraduate program or study at a community college and transfer to another institution to complete a 4-year degree later on. It is important to weigh all your options: while community colleges offer lower tuition rates on average, there may be less opportunities for scholarships, limited housing options and some course credits may fail to transfer to your chosen 4-year school.
Graduate Studies
In Nepal, students can enroll in programs such as the M.Phil and Post Graduate degrees that do not exist in the US. Both Master's and PhD programs are referred to as "graduate" studies. A Master's degree is usually earned after 2-years of study beyond a 4-year Bachelor's program and a PhD takes somewhere between 4 and 8 years beyond the Bachelor level.
If you have a 3-year Bachelor: Since there is no equivalent degree level in the US, a student intending to join a graduate program should have at least 16 years' education and relevant study in chosen field. Students with a 2- or 3-year Bachelor or who are currently enrolled in such a program have the following options:
Option 1: Complete a Master's degree in your chosen field and then apply for graduate study in the US. In some cases, students will be admitted as a Master's student or a PhD student, depending on your chosen institution's requirements.
Option 2: Transfer to an undergraduate program in the US. With this option you can potentially complete a Bachelor's degree in 1 to 3 years, depending on previous studies; however, each school has different requirements for transferring course credit and for graduation requirements, which may prove too costly for some students.
For students hoping to join an MBA program in the US, there is sometimes what's known as a "bridge program", sometimes referred to as pre-MBA in the US. Very few colleges provide such a program, but for those that do it is recommended that you contact the institution directly for more information about admission requirements. If accepted, a bridge program last from 1 to 1.5 years and will allow you to complete an MBA at the same school.
Applying to US Colleges and Universities
The terms "college", "university" and "school" are used interchangeably when referring to degree-granting institutions in the United States. Here, we will use the most common term, "college."
When applying to colleges in the US, it is advisable to begin 12 to 18 months prior to your desired enrollment date. If you are an undergraduate applicant, starting your application by the beginning of grade 12 will ensure that you do not have a gap between grade 12 and your first year of college studies. Similarly, graduate students can expect their application process to take 12 to 18 months, as well.
In addition to carefully researching each school and planning to meet specific admissions requirements, the long application timespan must take each college's application deadlines into consideration. Some deadlines, especially for competitive schools and scholarship programs, have application deadlines 8 or 9 months in advance of the start of the semester.
There are two semesters for which you can apply for admission: the fall semester (starting in August or September) and the spring semester (starting in January). The fall semester is the start of the academic year and some programs may be limited to admission at that time. If you are seeking to obtain scholarship funding, it is best to apply for the fall semester.
The Application Process
First, ALC recommends that you attend a Group Advising session at USEF. These intensive 2-hour sessions, usually held on Friday mornings, teach you about the entire application process. Register on Mondays to attend this free session.
Make use of USEF's library and online resources to inform your decision-making process. Once you have carefully researched your desired field of study, school statistics and characteristics, tuition costs, admissions requirements and scholarship opportunities, it is advisable to select 5 to 10 colleges to apply for admission. Choosing a broad number of options early on will increase your chances of gaining admission to a school of your choice.
As standardized tests can be limited in their availability, it is critical to understand which exams are required for admission. The TOEFL exam, or sometimes IELTS, is usually required for non-native English speakers to study in the US. In addition, many schools require the SAT or ACT for undergraduate admission and either the GRE for graduate school or the GMAT for an MBA program. Even if these standardized tests are optional, it may be useful to present good test scores to increase your chances of admission or reward of a good scholarship. Be sure to allocate enough time for test preparation in your application process! Please see information on ALC's standardized test preparation courses for further information on each exam.
Once you have successfully passed your exams and completed your application form, be sure to submit it before the application deadline. If you are accepted, you will receive information for an I-20, which provides information about yourself, the school and your expected tuition payments per year. An I-20 is required to complete your student visa application at the US Embassy in Kathmandu.